I know what your thinking,
Wow Amanda, this is really late. Lazy much?!
Yes and Yes!
I first saw this on a YouTube channel I follow called
CandidMommy
. Go ahead check it out. I will wait.
Tic Toc Tic Toc
OK you back?
Good!
I also started to read a lot more blogs and kept seeing a pattern with goals instead of resolutions. Also, some of them had mentions of going back to their goals every 3 months and revising them. Things happen and sometimes goals need to change.
I broke my goals up into categories just like CandidMommy did.
So here are my 2013 Goals:
Me:
~Do my hair and make up more often. I love how I feel doing my hair and make up but I hardly do it. Being a stay at home mom and living in a small town, sometimes I feel like I have no reason to do it but I do have a reason and it is me.
~Me time. I never have me time. My me time is every great once in a while I can go to the grocery store by myself. The grocery store doesn't really count but since I have started this blog and a YouTube channel (which is a work in progress) they will be my new me time. Something that makes me happy and sane. Ya hear what I'm saying?
Son:
~Do more arts and crafts at least 3 times a week. (I will also try doing blogs about them)
~Read more bedtime stories to him.
~Make a more solid schedule for him. (May do a blog on this as well)
Husband:
~More date nights. We used to go to the movies all the time but we hardly ever go now. My goal is to do at least 2 date nights a month. This can be movies, dinner, or just a drive but there isn't much to do in this small a$$ town. Ya! I said it.
~Do two unexpected nice things for my husband a week. For example, leaving notes in his lunch for work or giving him a back rub. Who knows, that can lead to other things.
~Portion Control!! This one is a big one for me. It is so hard to stop eating if the food is so damn good. Girls, you know what I'm talking about. With this goal I will start counting my calories again.
~Cut down on eating out. Now, I am not going to cut it out completely because that is not realistic for me. Besides, I just said I need to do a date night with hubby twice a month. I just need to be smarter about it and cut back. I feel if I cut something completely out it makes me crave it more. Makes me think about it more often.
~Work out 5-6 days a week. Now, I was supposed to start insanity again but since we have to move into an upstairs apartment I don't think I want to piss off my new neighbors. On the upside, there is a 24 hour gym in our complex.
~Start running again!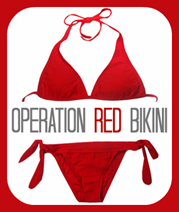 Thanks to
Southern Girl Gets Fit
for introducing me to the challenge.
Go check it out I will wait but hurry back.
>
>
>
Great you came back!
~Pay off credit cards. Our credit is good. We always pay on time. I just want them to be paid off. When my husband graduated in May we had to live on our credit cards until he got his job in July. This also included moving from Louisiana to New Mexico. This is the only debt we have. Cars are paid and we don't own a house, YET!
~Buy a house!!!!! Our mortgage lender said we could buy a house after 6 months of my husband working at the mines but the underwriter said a year. So I am hoping to be able to buy a house this summer. Wish us luck!
~More family outings. We don't get out much because my husband works a lot and when he's off I'm babysitting. He does get 2 Saturdays off a month and we could dedicate these days as family days. This can be a picnic or a trip to Roswell or El Paso. These are bigger towns about 1 to 3 hours away. They actually have Target and Starbucks unlike here.
I know what your thinking. "How do you survive?" Honestly I don't know!
~Try doing game nights on the weekdays my husband has off (he does shift work). Games like elefun or match games. Something our 4 year old can do. On game nights, TV has to be off and phones in another room.
You still with me? I know, long boring list ,but I had to get it in writing or I won't try and follow it (my laziness will kick in). So, if your still with me let me know if you made goals for 2013. I would like to read them. Thanks!
Have a great weekend!
~Amanda